🚫 Thursday Training – You Don't Have To Pay for Microsoft Word! 
Dear Posse!
Its I Feel God Brown and we have our Thursday Training email. In today's email I wanted to remind you to Reserve a FREE 30 Rent My Brain Session…….  AND advance signup for the One Funnel Away Challenge that changed our business COMPLETELY
If you enjoy these posts and emails, please let me know!
Here are some goodies that I hope will help you, but most importantly remember …everything good that God, your God, has promised will come true
    1st , Don't Pay for Microsoft Word!
    2nd, 8 Ways to Shape Your Family Spiritually  
    3nd, 'ONE FUNNEL AWAY' Challenge Starts THIS WEEK! 
"You only have one life, and if it is not going in the direction you want it to, now is the time to make changes "
    — Joyce Meyer 

**************************************************************************************
Feature
Don't Pay for Microsoft Word! 4 Reasons to Use Office Online Instead
Microsoft Office is the world's de facto productivity suite, but did you know that you don't really need to pay for Microsoft Word and other apps? Thanks to Microsoft Office Online, you can access the most popular Office apps for free.

For most people, these stripped-down versions of Office work just fine. Let's look at some of the reasons to use Word Online, Excel Online, and the other free offerings.
https://www.makeuseof.com/tag/dont-pay-word-5-reasons-use-office-online/
**************************************************************************************
LIMITED TIME SPECIAL Get a free RENT MY BRAIN 1 on 1 conference call with me. 

If you can't grow your business or ministry, define your market in detail, or earn income you need online, then you need to LET ME HELP. Reserve a FREE 30 Rent My Brain session. I'll help you to see how to UPSCALE!
Lets UPSCALE your business or ministry! It costs you nothing to talk with me for 30 minutes and discover ways I think you can be more effective using outreach and technology.
Click this link to schedule your call. LETS GO!
https://calendly.com/ifeelgod/free-one-on-one-conference
—
Group Promo
************************* SPONSOR **********************************************
The Next 'ONE FUNNEL AWAY' Challenge Starts On Sep 30th…
I Want To Invite You To Join The 'One Funnel Away' Challenge And Change Your Business Forever! This helped our business more than any other training
Your Challenge Kit Will Have Everything You Need For Success During Your 30 Days.
Are you just getting started, and have NO IDEA where to start?
Are you in a dead end job that you hate, and you want to start your own business or start working from home?
Do you have a company that's been successful, but for some reason you're feeling stuck?
Are you trying to figure out a way to reach more people, or have a bigger impact on the world?
When you join the "One Funnel Away" challenge today, Russel is going to ship you a kit with the 550 page '30 Days' book, the One Funnel Away workbook, the OFA MP3 Player with pre-loaded funnel training and more!
Join The Challenge Now For A One-Time Discounted Payment
WordPress Site Building Simplified – SAVE NOW!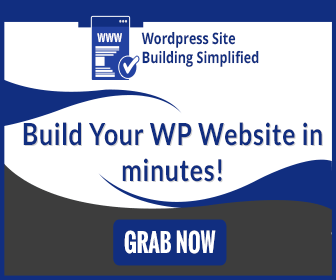 Your Business Website is the most important online marketplace where customers explore, learn and take vital decisions about buying a product or service. 97% of consumers search for a business online before making a purchase!
Keeping this in mind, let me take you by the hand and show you LIVE how to create a stunning WordPress website today with WordPress Site Building Simplified Video Series.
Save $20

http://christianstimulus.com/c/easywordpress
**************************************************************************************
8 Ways to Shape Your Family Spiritually
Saw this article and thought it would bless you. Here is a summary of what it said. -JMb <><

A parent's most basic task is to help their children learn how to live in God's world. This isn't a once in a while task, but an opportunity that is available nearly every moment.

One of our elders recently shared how he and his wife help their seven children develop spiritually. What follows are my reflections on the principles he shared with us about how to shape your family spiritually.
http://ifeelgod.org/1744/8-ways-to-shape-your-family-spiritually

********** BOOK ************
ANATOMY OF A COMEBACK: SEVEN STEPS TO RESTORATION WITH GOD
ANATOMY OF A COMEBACK: SEVEN STEPS TO RESTORATION WITH GOD examines how to recover from a failure. Many people fail in some area of their lives. This work outlines the biblical steps that King David used to recover from a major moral and leadership failure. The key thing is that he did recover and so can you.
********************************
**************************************************************************************
Scripture Thought
God never made a promise that was too good to be true.
"But just as sure as everything good that God, your God, has promised has come true, so also God will bring to pass every bad thing until there's nothing left of you in this good land that God has given you. If you leave the path of the Covenant of God, your God, that he commanded you, go off and serve and worship other gods, God's anger will blaze out against you. In no time at all there'll be nothing left of you, no sign that you've ever been in this good land he gave you." Joshua 23:15-16  (MSG)

After a brilliant career as Israel's leader, Joshua bids them farewell. He urges them not to allow themselves to be corrupted by the gods or people of the nations around them.
Then Joshua encourages them that if they are faithful, "all the good things" of the Lord will come upon them (23:15); if they are not faithful, "the Lord will bring upon you all harmful things, until He has destroyed you from this good land" (23:15).
**************************************************************************************
**************************************************************************************
Well that's all for today! But I do need your help. Can YOU send me any questions or problems you are having concerning business OR ministry (local or online)?
If you no longer wish to receive these notifications, updates, freebies & special offers then please use the unsubscribe link at the bottom of this email. Either way, thank you for letting me be a part of your online life.
I want to bring value to you as part of the POSSE! Let me know if these are helping you.

I believe in YOU!
Remember – Show up – Be Awesome – Bless Others
In Him,
JMb <><
Bishop James I Feel God Brown
The Internets Favorite Pastor
Visit My Blog http://www.ifeelgod.org –
http://christianstimulus.com – Christian Business
http://www.1000churches.org – Kingdom Ministry
Get a free UPSCALE conference call with me.
Schedule your time here https://calendly.com/ifeelgod/free-one-on-one-conference
Subscribe on Youtube
p.s. Please forward this email to online entrepreneurs (coaches, pastors, consultants, trainers, designers, speakers, etc.) who want to learn to create and grow their online business.
​















Note: This email is never sent without permission.

If a friend forwarded this email to you and you'd like to
subscribe (it's free), you can by visiting:
http://christianstimulus.com/WWA



Material Disclosure:

In accordance with the recent FTC guidelines I have to inform you that some of the links inside this email or the links on pages this email refers you to, may be affiliate links.
My opinion is not for sale, but in some cases on products I already like, I receive compensation for links in my articles through affiliate arrangements. So, I may be an affiliate of some of the links here. That means I receive a commission if you purchase something after clicking on my link.
I only recommend products I love or people I totally trust. You never pay more, and sometimes I'm able to negotiate special discounts and bonuses. However, you should always do your own research and due diligence.