💻 Tuesday Tech – Format and Distribute Your Books
Dear Posse!
Its I Feel God Brown and we have our Tuesday Tech. One week to school start. Time to get busy and serious about getting our income streams moving. I believe in using passive income because these passive income techniques work!
If you enjoy these posts and emails, please let me know!
Here are some goodies that I hope will help you, but most importantly remember The "heavenly container" of joy is bottomless!

    1st,  The BEST Affiliate Training Course
    2nd, Send & Receive Texts To & From Your Computer 
   Also, WHAT DOES MOVEMENTAL CHRISTIANITY LOOK LIKE?
"What sunshine is to flowers, smiles are to humanity. These are but trifles, to be sure; but scattered along life's pathway, the good they do is inconceivable. "
—  Joseph Addison
Feature
The BEST Affiliate Training Course – FREE
This is a $997 training course Russell gives away FREE to help train affiliates on how to do affiliate marketing. This also takes them through the process to become a ClickFunnels affiliate and how our 'Dream Car" bonus works.
http://ifggo.pro/clickfunnels-ag19
—
Group Promo
************************* SPONSOR **********************************************
Format and Distribute Your Books with Draft 2 Digital
WRITING IS YOUR DREAM Draft 2 Digital makes publishing your reality. D2D is Self-Publishing with Support for you. Your book is your priority. Their priority is you. They have build tools and services that let you focus on writing while they take care of layout, publishing, distribution, and more.
Best of all, they charge no fees for formatting or updating your book. Keep writing. they'll do the rest.
https://www.draft2digital.com/ifeelgod
God's Power to Change Your Life (Living with Purpose)
What does it take to…Become more loving?Live more peacefully?Develop patience? Have self-control?"In the years I have been a pastor," writes Rick Warren, "the number-one question I'm asked is, 'Rick, why can't I change?'" People want to change—but they're stuck.Do you want to get unstuck? Here's how.
**************************************************************************************
Send & Receive Texts To & From Your Computer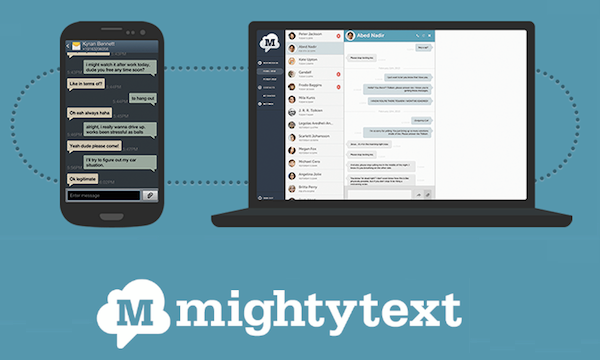 I love Mighty Text. When I am at the computer, I don't have to get up and find the cell in order to send and receive text messages. This is EXCELLENT and I use it EVERYDAY for FREE!
Send & receive SMS and MMS from your computer or tablet, using your current Android phone number. Messages stay in sync with your phone's SMS inbox. Phone Notifications on your Computer
WHAT DOES MOVEMENTAL CHRISTIANITY LOOK LIKE
In the West, if and when we see movements of churches planting 1,000 churches in their lifetime, then we believe the following 10 characteristics will be present. Based on our observations, movemental Christianity will have some of these characteristics.
https://1000churches.org/?p=1167
************************* SPONSORs **********************************************
Facebook Messenger Chatbot Builder

Fastest-Growing Facebook Messenger Marketing Solutions Provider Partner
That's powerful stuff. Don't let it go to your head. Statistics show that 1.2 Billion actively use Facebook Messenger on their mobile devices each month. That's some serious reach for any business! You don't have to be a big business to have success with chatbots and MobilleMonkey makes it that much easier.

GET MOBILEMONKEY FREE — YEAH, REALLY
These Top 3 "Diabetes Drugs" Will "Kill" You
Sign up for and learn what the Diabetes Conspiracy is all about…
Learn how Big Pharma has been lying to you just to continue GETTING your money
http://christianstimulus.com/a/diabetes
**************************************************************************************
Scripture Thought
The Real Joy Giver
" Joyfully you'll pull up buckets of water
    from the wells of salvation.
And as you do it, you'll say,
    "Give thanks to God.
Call out his name.
    Ask him anything!
Shout to the nations, tell them what he's done,
    spread the news of his great reputation!" 
Isaiah 12:3-4 (MSG)
David knew joy as well as deep turmoil and sorrow. He experienced both fear and joy protecting sheep as a young shepherd. He had slain the enemy giant Goliath and had led many military coups. The music of his harp had quieted the tormented King Saul, but the king later chased him and forced him to hide in caves. While being taunted by his enemies, his thoughts turned to the joy he felt when worshiping God in Jerusalem.

The simile in the first two verses of Psalm 42 pictures our deep need to find God and to enjoy a personal relationship with Him. Imagine a deer's desperate search for water, a need that often takes it across busy highways. Just as the animal craves, searches, and finds water, so we need to crave, aggressively pursue, and find God. Our need for God is far greater than a deer's need for water.

A popular praise song from these verses identifies Jesus as the Joy Giver. We know the source of joy. Will we pursue joy or only gather information about its availability?

Insight: The "heavenly container" of joy is bottomless. Don't believe the lie that joy is only for some people. Draw on your heavenly supply today. 
Pastor Michael Inman
**************************************************************************************
How To Hear The Voice Of God
Hearing The Voice of God takes you step by step into understanding how God communicates with men and women TODAY. There are 8 ways the Bible teaches and this book goes through each.

Don't miss this information it can change your life FOREVER
http://ifeelgod.org/training/how-to-hear-the-voice-of-god/
**************************************************************************************
Well that's all for today! But I do need your help. Can YOU send me any questions or problems you are having concerning business OR ministry (local or online)?
If you no longer wish to receive these notifications, updates, freebies & special offers then please use the unsubscribe link at the bottom of this email. Either way, thank you for letting me be a part of your online life.
I want to bring value to you as part of the POSSE! Let me know if these are helping you.

I believe in YOU!
Remember – Show up – Be Awesome – Bless Others
In Him,
JMb <><
Bishop James I Feel God Brown
The Internets Favorite Pastor
Visit My Blog http://www.ifeelgod.org –
http://www.1000churches.org – Kingdom Ministry
p.s. Please forward this email to online entrepreneurs (coaches, pastors, consultants, trainers, designers, speakers, etc.) who want to learn to create and grow their online business.
​





















Material Disclosure:

In accordance with the recent FTC guidelines I have to inform you that some of the links inside this email or the links on pages this email refers you to, may be affiliate links.
My opinion is not for sale, but in some cases on products I already like, I receive compensation for links in my articles through affiliate arrangements. So, I may be an affiliate of some of the links here. That means I receive a commission if you purchase something after clicking on my link.
I only recommend products I love or people I totally trust. You never pay more, and sometimes I'm able to negotiate special discounts and bonuses. However, you should always do your own research and due diligence.